Updating data. Please wait few minutes.
Travel tips : all the answers to your questions.
What is the weight allowed for my luggages?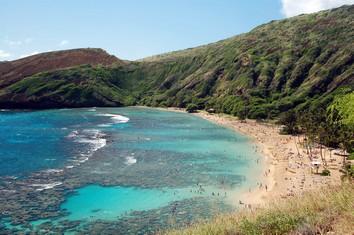 Your vacations in Hawaii
Hawaii is the newest of the 50 American states and it is the only state made up entirely of islands. It's located on an archipelago in the central Pacific Ocean, southwest of the continental U.S. southeast of Japan, and northeast of Australia. The state was admitted to the Union on August 21, 1959. Its capital is Honolulu on the island of O'ahu. The most recent census estimate puts the state's population at 1,283,388.

The state encompasses nearly the entire volcanic Hawaiian Island chain, which is comprised of hundreds of islands spread over 2,400 km. At the southeastern end of the archipelago, the eight "main islands" are (from the northwest to southeast) Ni'ihau, Kaua'i, O'ahu, Moloka'i, Lāna'i, Kaho'olawe, Maui, and Hawai'i. The last is by far the largest and is, therefore, often called the "Big Island" or "Big Isle", to avoid confusion with the state as a whole. This archipelago is geographically and ethnologically part of the Polynesian sub-region of Oceania.

Official language
English, Hawaiian
Currency
US dollar
Electricity
120 volts, 60 cycles
Shopping
The islands of Hawaii feature some of the most unique and refreshing fragrances in the world, which you can easily find in locally-produced shampoos, bath products, body lotions, soaps, oils, incense, and even floating candles. And, you can always find a loudly-pattered Hawaiian shirt or moo-moo dress to take home with you – this will provide a happy diversion and memory when fall or winter chills your bones back in Canada.
Useful information
Lanai, an island in the archipelago of Hawaii, was at one time completely owned by Dole Foods and was the largest pineapple plantation in the world; it is now home to several exclusive resorts.